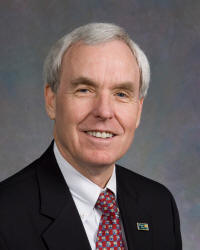 Send email to preparer: jack@irishwalsh.com

An audio file is available for the Walsh family history. Play now.
Quick links:
Prepared by: John Joseph Walsh
31 Eighth Street
Derby, CT 06418-1205
(203) 734-3142
Send email to preparer:
jack@irishwalsh.com
The site was last updated (07/11/2018).
Click here to enter

The site requires a password for entry. You will need to send me an e-mail if you wish to gain access.

Information update - There are many references to St. Mary's Church in Derby, CT. As of July 1, 2017, the church is now part of the new parish - Our Lady Queen of the Apostles. I believe the church building itself will retain the name, but in the future the parish will bear the new name.

This website is primarily the story of the descendants of Thomas Walsh, a farmer living in the heart of Ireland in the middle of the 19th century whose descendants scattered across the globe. The information is managed in a genealogical software program (The Master Genealogist) and generated for the Internet using another program (Second Site) that works specifically with The Master Genealogist. You can find individuals by using the surname list or by clicking on their names on the family tree charts.

The site now includes a search function in addition to a calendar showing births, deaths, marriages and graduations and an interactive map. Use the links on the left to go directly to those functions. There is now an improved family ancestor review for each individual.

The data has been compiled with input from many people, and I want to thank everyone who has helped. This is - and always will be - a work in progress. That is particularly true on the source side where I have just begun to realize the importance of having sources for all of the data. You will see that is quite limited on the site. However, the site is a bit stronger on the visuals side with hundreds of pictures on the site.

Comments and feedback are invited and any additions or corrections are more than welcome. You can send me data and photos using the e-mail links on this page.